We accept submissions in digital format via email, or in physical, printed glory via post. We will respond to every submission, whether positive or negative. Due to the occasionally high volume of entries, we do not return any submissions. If your entry is declined, we will destroy the submission material.
The following guidelines are provided to ensure a swift acceptance of your submission. Read them, know them, live them.
YOUR SUBMISSION MUST BE THE PRODUCT OF YOUR OWN HANDIWORK AND NOVEL INSPIRATION.
Your submission must be your original design. Do not deliver submissions which are slight modifications or filter-affected variations of existing digital designs. Yes, this issue is indeed a matter of professional consensus and critical judgement, but we reserve the right to decline any submission that does not clearly represent its creator's claim to ingenuity and originality.
ALPHANUMERIC FONT SUBMISSIONS MUST CONFORM TO THE STANDARD T26 CHARACTER SET REQUIREMENTS.
Unless your design is extremely detailed and explicitly intended for decorative, headline use, we highly recommend that you develop the lowercase and all punctuation. Regardless of the detail or intended use, you must include support for Western European characters. Support for Central European characters (not shown below) is recommended, but not required.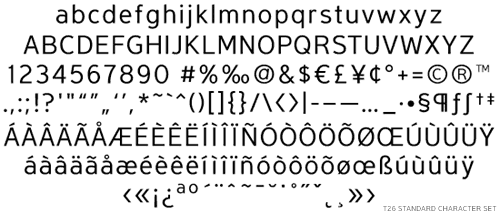 ALPHANUMERIC FONT SUBMISSIONS MUST INCLUDE COMPLETE KERNING TABLES.
Do not submit your design until you have attained some level of dexterity in this integral aspect of digital typography. It will take time and effort to suitably kern a font, and you CANNOT RELY ON AUTOMATIC KERNING IN ANY FONT DESIGN APPLICATION. We expect kerning tables to be manually edited by a well-trained eye.
PLEASE INCLUDE AN EXAMPLE OF YOUR SUBMISSION IN ACTION.
To complement a formal specimen of your submission, this could be a Quicktime movie, a printed piece, a link to a Web-based presentation, or any other document that would suitably demonstrate your submission's potential. We encourage our designers to be involved in the promotion of their work, and this is typically a good foundation for such promotion. This isn't required, but is your chance to sell us on your work.
PLEASE DO NOT SEND LARGE ATTACHMENTS.
If you choose to email your submission material as an attachment, please limit your files to under 4 megabytes. For attachments that are cumulatively above 4 MB, please send us a download link we can use to access the files.
PLEASE INCLUDE YOUR CONTACT INFORMATION ON ALL SUBMISSION MATERIAL.
Whether digital or printed, this will make it much easier for us to match your name to the typeface, and for us to expedite a reply.
If your submission is accepted, we will estimate a retail price and provide a sample of our Designer Contract for you to review. This sample contract outlines our royalty system and licensing terms. If you agree to the terms of the Designer Contract, you will do so by providing us the font files for initial inspection and you will thereby be bound by the Designer Contract.
After the initial inspection, the process of preparing the font for distribution may be somewhat lengthy, depending on the quality of your submission and your level of expertise. We will begin by making any major technical adjustments as necessary, and notify you of any further aesthetic or technical concerns that should be addressed to ensure a quality product.
When work on your submission has has been completed, we will generate the final font files and prepare them for promotion and distribution. We will provide you with copies of these final font files for your personal records upon the signed return of your Designer Contract.
Email your submission to: submissions@t26.com
Or by post:
T26 Digital Type Foundry
attn: Submissions
1110 North Milwaukee Avenue
Chicago, Illinois 60642 USA
We look forward to seeing your work!
---
Submissions FAQ
Who decides if a submission is accepted?
The T26 and Segura Inc. staff act as jury.
My font exists as letterforms in vector/EPS format. I don't know how to get it into Fontographer / FontLab / Glyphs. Can I submit my design as EPS vector files?
Feel free to submit these initial drawings for critique or feedback, but we cannot accept an alphanumeric font until it exists in a viable font format (VFB, GLYPH, UFO, FOG, OTF, TTF).
I designed a dingbat set, but I don't know how to make it a font. Can I submit it for acceptance as one of your EPS Set?
Yes, we could accept and promote your design as an EPS Set, but keep in mind that fonts generally sell better than EPS Sets.
What royalty percentage do you pay?
We will gladly disclose that information to you upon the acceptance of your submission.